Our marketing director, Vicki Kolovou, had the opportunity to present, together with Ulf Pehrsson, Head of Government and Industry Relations at Ericsson, on the outcomes of expert and citizens panel discussions regarding Deploying an open innovation platform for Greece: 5G Policy Recommendations, during September 29 – October 1, 2021. In 2021 as part of the Athens Democracy Forum (ADF), the Foundation undertook a project entitled "Democracy catching-up with Technology" in collaboration with the Ministry of Digital Governance of Greece. As part of this, they convened 4 expert roundtables/workshops (15 people each) on June 28 & 30 to come up with a policy recommendation that was then stress tested at a citizens' panel each (25-30 people) a month later, originating in a recalibrated policy recommendation that was presented at the 2021 ADF on September 29th.
The 4 topics of the Roundtables were as follows:
1) Open Data & AI
2) The roll out of 5G: Greece as a case study
3) Digitalisation: The Greek experience
4) Battling disinformation: Shaping the democratic discourse
Vicki presented the final report and its outcomes during a presentation at the Museum of Modern Architecture, along with Ulf Pehrsson, who joined in via Skype.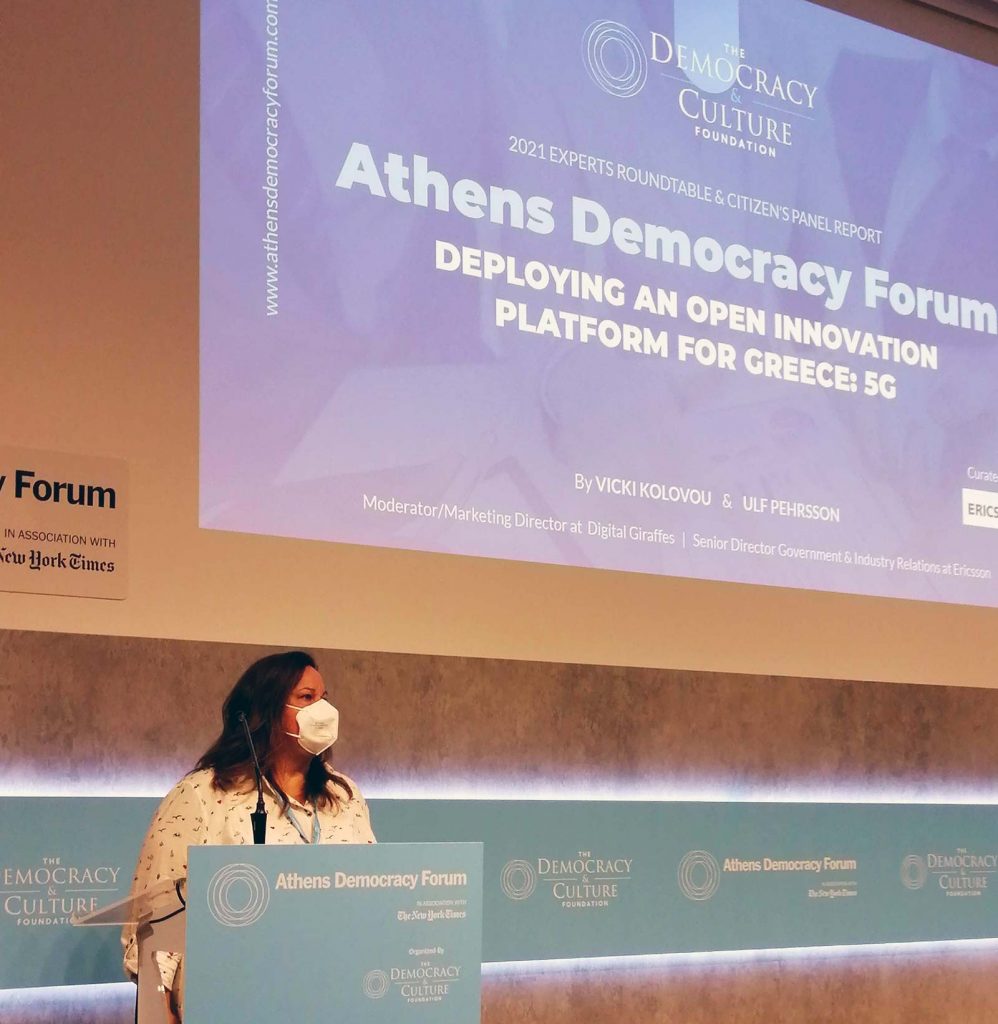 The Athens Democracy Forum was convened by The New York Times from 2013 to 2018. In order to allow future growth and development of the conference, it was decided to form a nonprofit structure around the forum and remove it from the commercial structure of The New York Times conference division.
The mission of the Democracy & Culture Foundation is to empower society through better governance and citizen engagement. The Foundation aims to be the leading global platform for dialogue and solution-oriented activities concerning 1) the role of culture, as an expression of freedom and individuality, in allowing a society and democracy to flourish; and 2) the evolution of democracy, civil society and the arts and media.

The foundations goals are to:
– Promote the principles of artistic freedom and independence and dedication to truth of the media, as prerequisites for a good society and governance;
– Seek new models of democracy inspired by the arts as an expression of human creativity and freedom of thought;
– Recognize and collaborate with individuals and institutions whose achievements demonstrate a lasting commitment to the advancement of democracy and culture.
To achieve these goals and enhance its mission, the Foundation seeks to team up with global institutions, networks and events in an effort to ensure that the new models and proposed solutions become reality.