Savoir-Vivre for Remote Workers
Holding face to face team meetings, where all the participants get together in the same room, has many benefits, especially for groups that most of the time collaborate remotely. Meeting online never had so many options and tools available; meeting face to face though helps communicate more effectively, build stronger relationships and increase trust among coworkers. Following some guidelines, face-2-face meetings can become successful, reaching not only meeting goals but also help participants feel more comfortable.
Arrive at the meeting destination on time
Face-2-face meetings are important for remote workers; they need a lot of work and planning so the best thing attendants can do is be there on time. Plan much ahead, set a calendar reminder, and preferably do not get caught up in any activity at least a few hours before the meeting. Carefully inspect and lock the closets the night before so that your furry friend does not sneak in and get lost just before leaving home! Work on the route to the meeting location and check for public transport strikes and potential flat tire issues.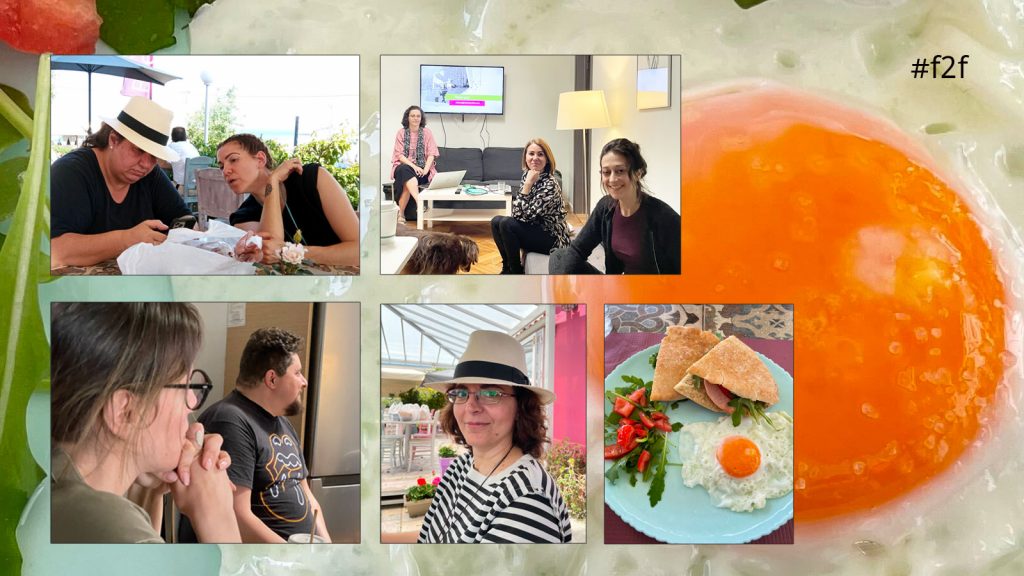 Socialize during spare time
Practice your social skills by introducing yourself to colleagues that you have only met during Zoom calls; it is pretty common when working remotely, especially during pandemic times! Any chatting should be done before the meeting leader starts speaking, and once they do, you should pay attention to them. Put away your smartphone and try not to munch on the finest chocolate treats one of your colleagues brought from their business trip to Brussels.
Be ready to play your part in the meeting agenda. Come with all the materials needed, study the meeting's main subject and be well prepared if you have an active role presenting a topic to your colleagues. Make sure that your slideshow lives in the right folder, and is compatible with the presentation computer and screen. Ask relevant questions when needed and be prepared to answer ones yourself, helping your colleagues have a more clear view of the meeting key points.
If your dress code, while remote working, included mostly pajamas and messy buns you ought to better think about what you are going to wear at the team f-2-f meeting. Follow the team style and level of formality by making sure that your outfit matches the time and place of the meeting. You certainly do not have to wear a suit if the meeting is taking place beside a resort pool and the organizer is giving a talk in shorts and Birkenstock sandals.
Make the best of coffee breaks
Coffee and snacks bring us together! Help make sure that every attendant can enjoy a nice cup of coffee and a healthy and tasteful snack. Check for close bakeries that stand out and order ahead. Bring something you made yourself… if you feel like it! Bake a banana bread or some traditional small cheese pies, your granny used to make, and try to make amends with colleagues that follow a special diet; due to health reasons or personal beliefs. Please do try to have a small pot for brewed coffee available (Greek briki); not all people are espresso fans! Extra tip: Bring some chalkboard stickers along so that everyone can write his/her name on the cup or glass they leave on the coffee table.