There are many alternatives to Google Analytics but this article will stick to cookie-free (or cookieless) alternatives. The reason we chose these is because we wanted to find a way to respect user privacy, and basically be GDPR compliant, as we serve EEA users and clients. Obviously GDPR is not the only privacy law out there, there are the CCPA and PECR regulations, and several other directives from several countries that are catching up and making user privacy a priority. So countries like the US, Australia, Canada, Brazil, South Africa, the UK have directives in place that require websites and apps to comply with.
Why not Google Analytics?
Apologies for the deviation, but you can jump further down directly to the cookie-less analytics platforms, if you believe you know this part already or don't care.
So why not just use the free version of Google Analytics? As we've mentioned, Google Analytics 4 is taking a lot of steps to become fully GDPR compliant. But it is not compliant out-of-the-box. You would need to research, read a lot, and tweak your Google Analytics property to comply. You can make GA4 work without cookies, where the Google Analytics' client ID will not be persistent between page views. The consequence will be that every page view is considered a unique visit. This skews user and session counts significantly. Otherwise you will need a cookie banner for consent.
But the biggest problem, in our opinion, is that even if you've done all the above you don't know where Google stores all that data it collects from your website. GDPR requires that all data collected on EEA citizens must be either stored in the EU, so it is subject to European privacy laws, or within a jurisdiction that has similar levels of protection. We've read many different things about how Google handles collected data. Here's an example: "Google Analytics 4 collects all data from EU-based devices (based on IP-geo lookup) through domains and on servers based in the EU before forwarding traffic to Analytics servers for processing". Problem is we have no way to check or control where exactly this data is processed. In order to be GDPR compliant they would have to be isolated within the EU. 
In 2020, the Austrian authorities contradicted Google's data-handling practises, where according to noyb, "In a groundbreaking decision, the Austrian Data Protection Authority ("Datenschutzbehörde" or "DSB") has decided on a model case by noyb that the continuous use of Google Analytics violates the GDPR. This is the first decision on the 101 model complaints filed by noyb in the wake of the so-called "Schrems II" decision. In 2020, the Court of Justice (CJEU) decided that the use of US providers violates the GDPR, as US surveillance laws require US providers like Google or Facebook to provide personal details to US authorities. Similar decisions are expected in other EU member states, as regulators have cooperated on these cases in an EDPB "task force". It seems the Austrian DSB decision is the first to be issued".
While the EU and the US are working on an EU-U.S. Data Privacy Framework, which will help with safe trans-Atlantic data flows, addressing the concerns raised by the Court of Justice of the European Union in its Schrems II decision of July 2020, it still remains a long way to go before U.S. companies certify on an individual basis they have put in the measures requested by the GDPR to prove compliance.
So it's time to list -in no specific order- over 10 cookie-less Google Analytics alternatives we found. We haven't tried them all but we will definitely be creating a part 2 of this post with first-hand impressions.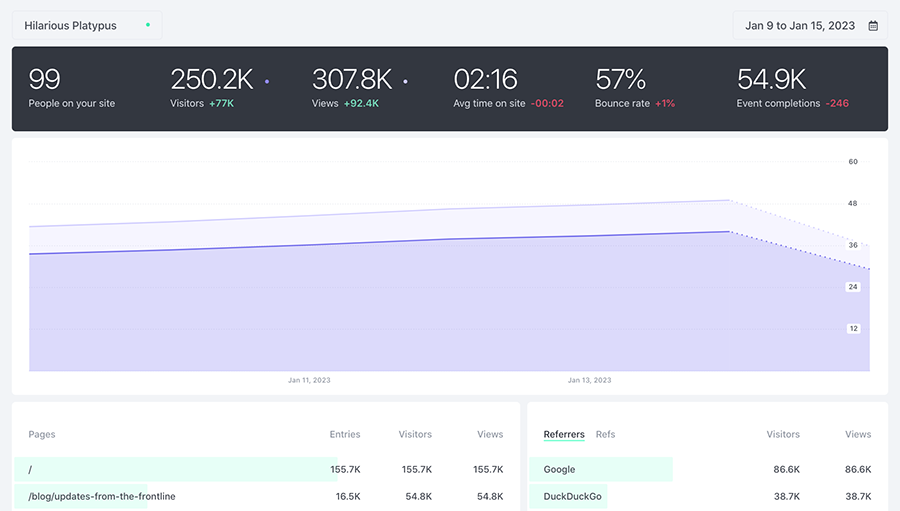 Fathom has a simple dashboard with number of unique visitors, page views, bounce rate, visit duration, and event completions. It also includes referral sources, most visited pages, country, browsers, devices, and campaign breakdown with UTM tracking.
They can bypass ad blockers with a DNS entry, which is a good thing considering 43% of internet users report using an ad blocker and thus blocking scripts
Email reports to clients
Data anonymization using SHA256 hash
GDPR, CCPA, PECR, ePrivacy compliant
Data is stored within the EU (Germany) and they have the option of extreme EU isolation with a custom domain solution
No cookie banner required
30-day free trial
$14/mo for up to 100K pageviews/50 websites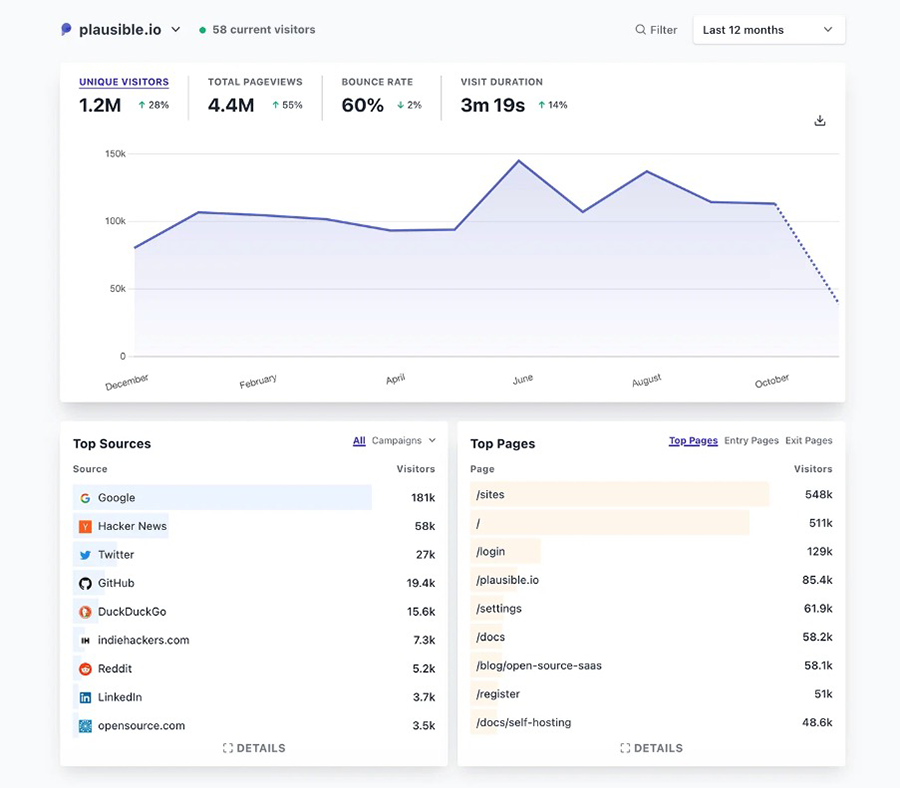 Plausible is a simple out of the box one-pager dashboard with number of unique visitors, total page views, bounce rate, visit duration, referral sources, most visited pages, country, browsers, devices. Included is a percentage comparison to the previous time period and you can track events and goals to identify the number of converted visitors and conversion rate.
Easy to use, no training or prior experience needed
Lightweight script <1KB helps with fast loading of webpages
Open source with self-hosting option available
Option to make your analytic stats publicly-viewable
Allows for Google Analytics data import
Offers audience segmentation
GDPR, CCPA, PECR compliant
Data is stored within the EU
No cookie banner required
30-day free trial
€19/mo for up to 100K pageviews/50 websites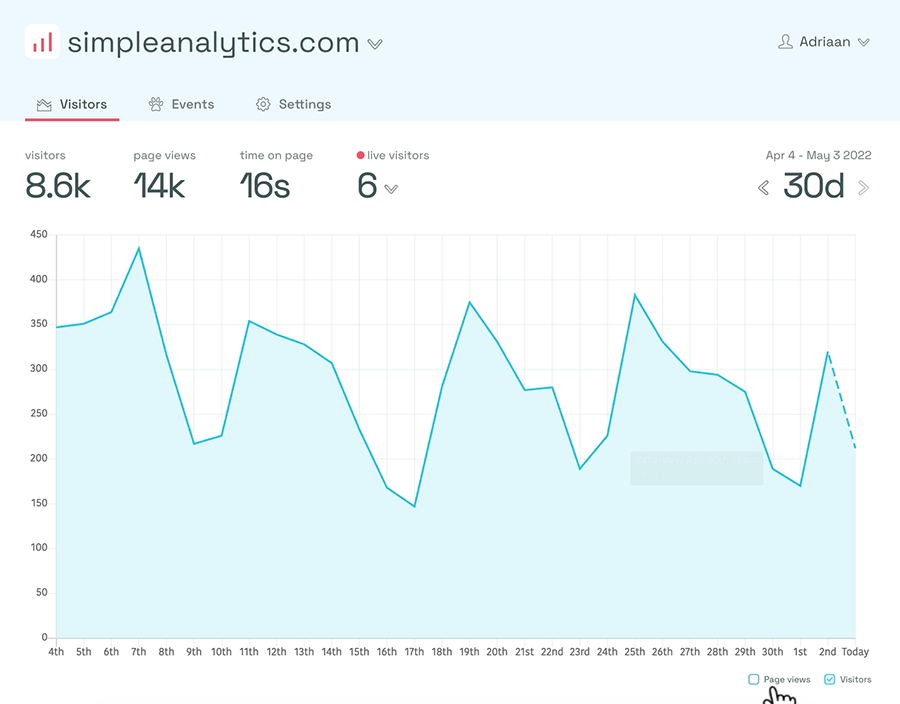 Simple Analytics collects two types of data, or datapoints as they call them, page views and events. Their dashboard is also simple with similar metrics like in the previously mentioned platforms, visitors, page views, referrals, devices and so on. It also provides event tracking to track outbound links, email addresses clicks, and amount of downloads for common files (pdf, csv, docx, xlsx), but you need to add a separate script for that. As for how they detect unique visitors, it's based on the browser hostname of the referrer of the page. If the current page's domain is the same as the one in the referrer, they know it's a non-unique visit.
Email reports automatically sent to email
Bypass ad-blockers with custom-domain and DNS
Raw data export on the business tier
Data import from Google Analytics
Block team visits
GDPR, PECR, CCPA compliant
Data is stored within the EU
No cookie banner required
14-day free trial
€9/mo for up to 100K datapoints/10 websites
Extras we liked:
Mobile friendly widgets for on-the-go
Dark mode for developer friendly environment
Their Roadmap of future developments is included on the website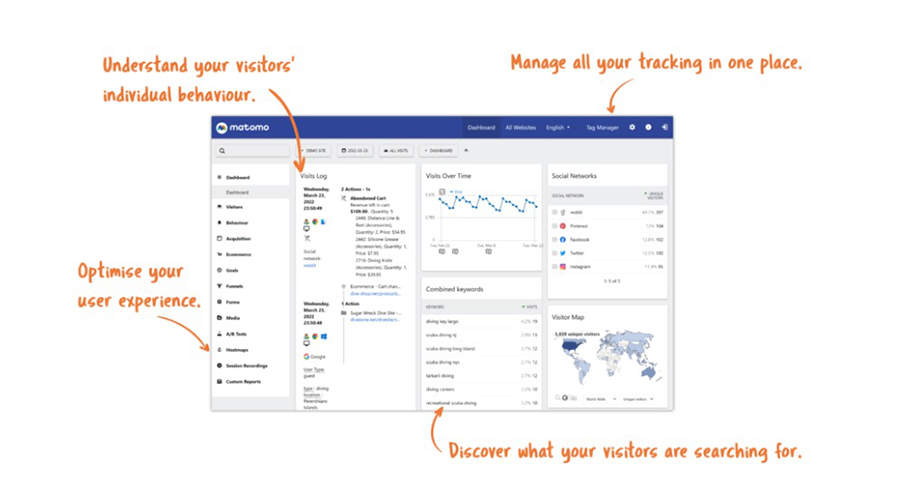 Matomo is a platform closer to what we've been accustomed with, for those using GA, with a treasure trove of data and reports. They offer a wide range of features, customizable dashboards, goal conversion tracking, and have an on-premises solution for those that want to download the software and add it on their own private server. What caught our eye, as marketing people, is that on top of the usual analytics, Matomo offers heat maps which means one less tool for that, and roll-up reporting which is useful when you have multiple analytics teams interested in different customer touch points.
Open Source, available for on-premises installation
WordPress plugin available
Data import from Google Analytics
GDPR, HIPAA, CCPA, LGPD, and PECR compliant
Data is stored within the EU
No cookie banner required
21-day free trial
€35/mo for up to 100K hits/30 websites (for on the cloud solution; the on-premises is free but you would need to consider the need for experts and server cost)
Extras we liked:
Choice of analytics for the European Commission's website which probably means well-vetted for compliance to GDPR standards
White Label offering
Very informative site
Made in New Zealand. Who doesn't love the kiwis?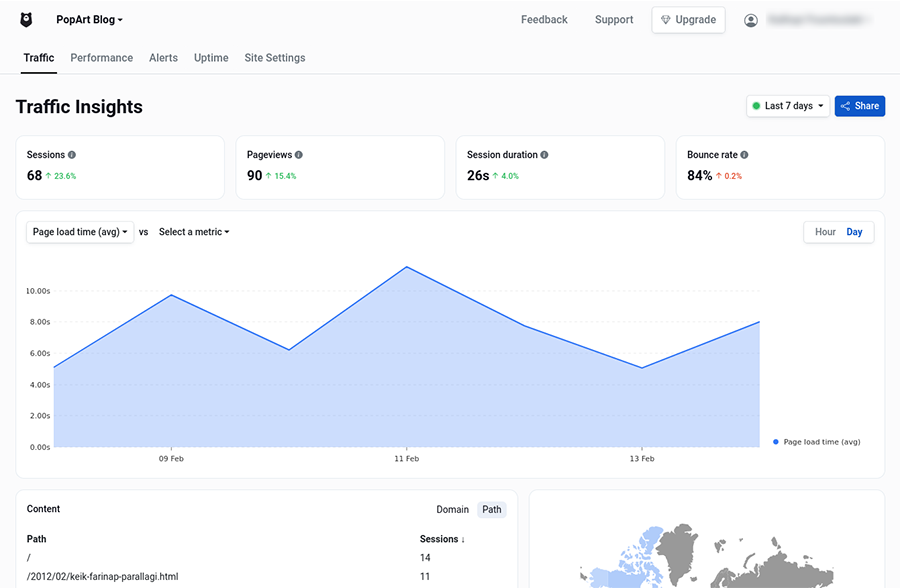 Panelbear offers a simple dashboard with all the basic metrics like pageviews, countries, referrers, devices, and so on. They use 'sessions' to group all the interactions a visitor does on your website during their visit, after they anonymize it. They also offer event tracking and conversion rate. Panelbear also measures page load time and other performance metrics directly from your visitor traffic. An interesting addition are the configurable alerts for traffic spikes, downtime, or increased page load times, with notifications in your email, Slack or Discord channel.
Shareable dashboards for clients or other interested parties
Email, Slack or Discord notifications
GDPR, CCPA compliant
Data is stored within the EU
No cookie banner required
14-day free trial
$29/mo for up to 100K pageviews with 10 rules, but they also offer a FREE version for 1K pageviews and no alerts
Extras we liked:
Free UTM code builder to track campaign URLs
Live demo here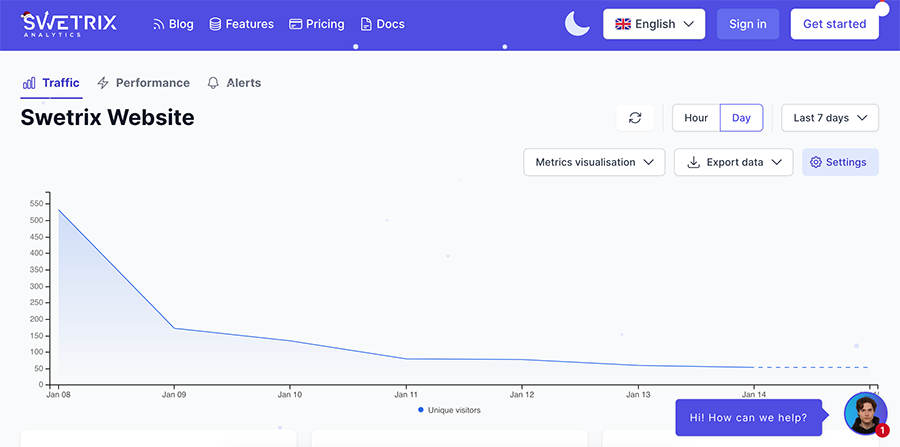 Swetrix looks far more feature rich than other platforms, closer to what Matomo has to offer. It tracks page views and custom events. It's open source with a good size developer community supporting it. Their data processing latency is 1 minute, compared to over 24h for Google analytics. They offer custom add-ons and extensions for Chrome and Firefox to view your data directly in your browser.
Open source; you can install on your own server
Small script size
GDPR, CCPA compliant
Data is stored within the EU
No cookie banner required
Free Hobby account for up to 10K visits/mo
$15/mo for up to 100K visits and 20 websites
Extras we liked:
Live demo here
Developer community
Made in Ukraine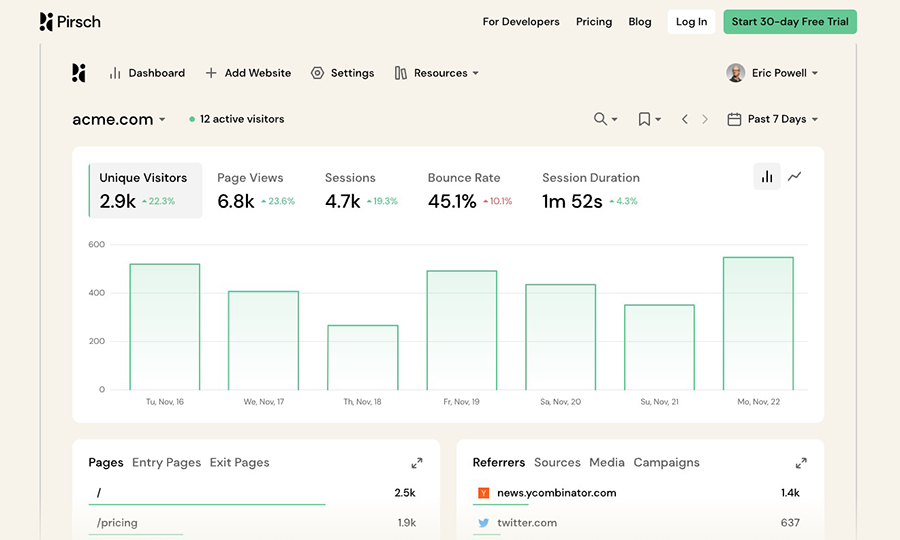 Pirsch is built for developers with an API that supports Golang, Javascript and PHP. It's powerful as it allows many things to be automated from within each application. Pirsch collects pageviews, UTM parameters, country, city and language, OS, browser and events. Each visitor receives a unique number which is updated every 24h. So the visitor remains as unique for that duration while remaining anonymous.
Open source
GDPR, CCPA compliant
Data is stored within the EU (Germany)
30-day free trial
$10/mo for up to 100K visits and unlimited websites
Extras we liked:
Live demo here
Works with Google Search Console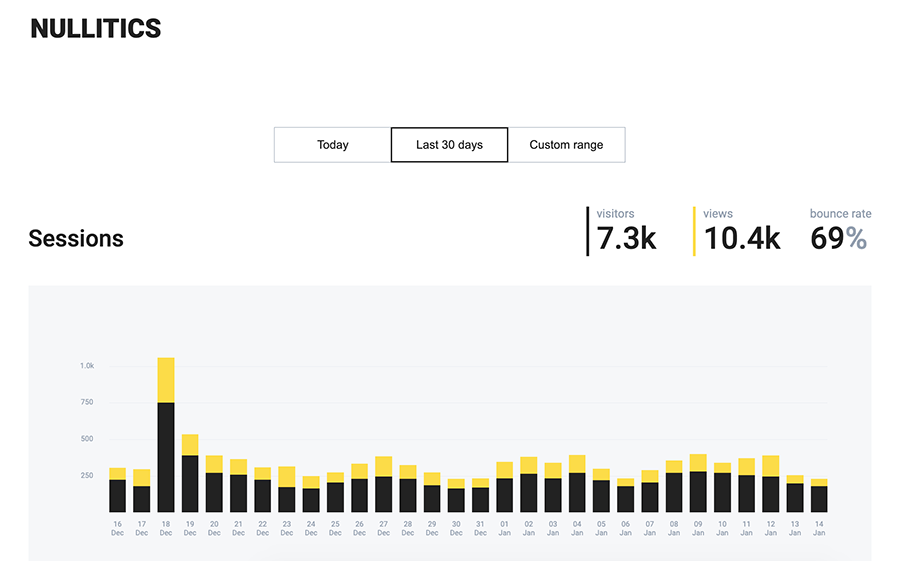 Nullitics market themselves as a minimal, open source zero-effort web analytics tool. They offer one of the simplest dashboards we've seen but with all the basic metrics. Events can be tracked like regular pages with some parameter passing. Simple and clean.
300bytes only tracking script
Open source; can be run on your own server
GDPR, ePrivacy, PECR, CCPA, and COPPA compliant
Data is stored within the EU (Netherlands)
No cookie banner required
€1/mo flat rate, no limits
Extras we liked:
A flat rate of 1€/month without any limits
Refreshing use of the colour yellow for a non-typical analytics dashboard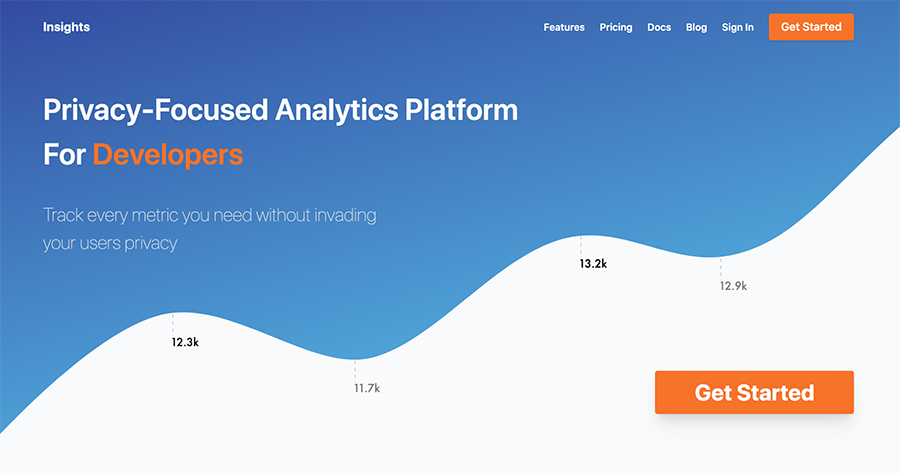 Insights targets code developers offering the required docs for setup. It's not easy to be used as an out-of-the-box solution. Insights tracks page views and all the basic page statistics, such as bounce rate, page visits, and user flow. They support event tracking such as clicking on a button, leaving the page, or even scrolling on a page. Unfortunately despite our research we didn't find any mention as to where they store the data, despite having information on what they collect.
Open source code on Github
Customizable script
Needs developer for setup
GDPR, PECR, CCPA compliant
No cookie banner required
$12/mo for up to 100K page views or events, but they also offer a free version
Extras we liked:
They offer a free version for up to 3K events or 2K page views per month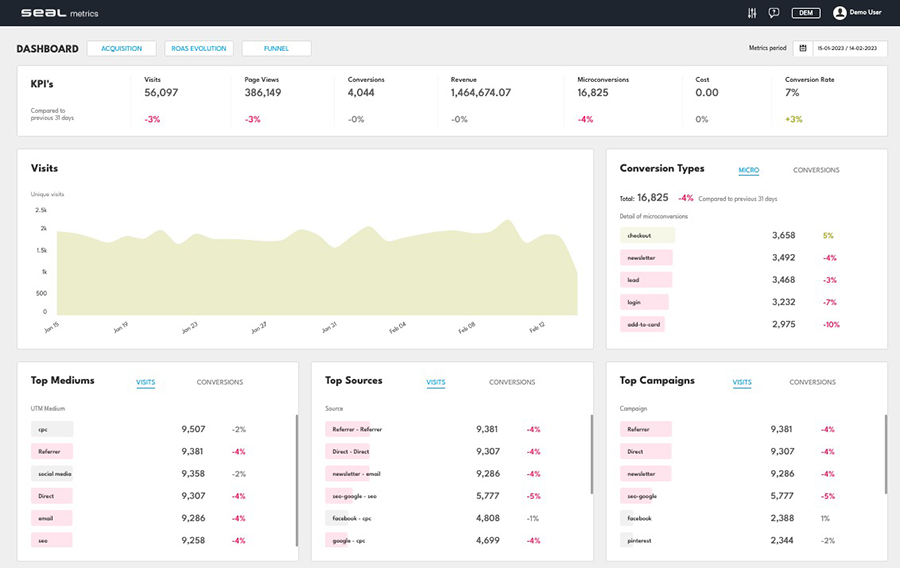 The people behind SEAL Metrics have experience building software for marketers, like Adinton, a marketing attribution solution. SEAL Metrics tracks page views and not visitor journeys or behaviour. They don't track user device, browser setup, screens etc. making them possibly the closest to actually achieving the ePrivacy directive when it comes to skipping consent. According to SEAL and many others out there, if you can track a user individually, even if you're not using cookies but tracking their device or browser (digital fingerprinting), then you need to ask for consent.
Data stored within the EU(Ireland)
GDPR, CCPA, PECR, ePrivacy compliant
No cookie banner required
30-day free trial
€19/mo for up to 100K page views for unlimited websites
Extras we liked:
Cookie Scanner
Their in-depth explanations on possible compliance traps
Their About us page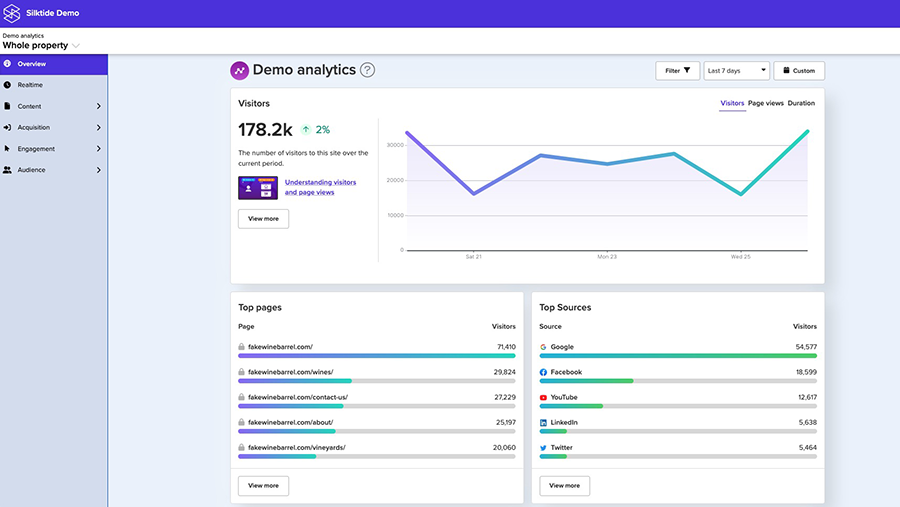 We knew of Silktide as a marketing and browser extension tool but it looks like it's also into analytics. They track pageviews, unique & returning(24h) visitors, bounce rates, UTMs, scroll depth and how many words were read on a page, events, downloads . They combine measurements with tools like heatmaps and report creation. Silktide is a multi-solution platform and better suited to large websites, judging from their website language.
Audience segmentation
Query parameters, beyond basic UTM
GDPR, CCPA, PECR compliant
No cookie banner required
Pricing after consultation
The information collected here was part of an internal exercise: research and decide which alternative privacy-respecting analytics platform we will choose for our client, that has requested such a switch from Google Analytics. We didn't want to go with a random choice, but really looked into the nitty-gritty, before we chose, while being prepared to defend our choice to the client. 
We believe we didn't miss any really important detail, but then again no one is perfect. In this profession, you continuously learn by keeping an open mind. Almost all of the platforms serve analytics in the same way. It was the finer details that made us swing towards a specific choice. Because we're now putting these platforms to the test, we won't reveal our choice; it wouldn't be fair. We are testing three different platforms. Hopefully we'll have more to say in the future.